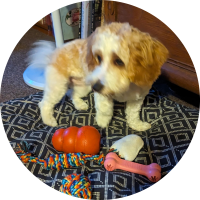 I got a puppy in July from Marcus. She was originally named Daisy but I changed her name to Willow Pearl. We got to hang around the farm and meet the other dogs (there were just a couple - this is not a puppy mill). Marcus was happy to answer all of my questions and happy to prove that he's ethical about puppies and their parents. He had no problem with my background checks too. Willow is healthy and she was well cared for before I took her. She's 6-months-old now and we are thoroughly bonded. She's going to be my service dog for my disability and PTSD. Training for that takes a long time but Willow is a smart girl with good manners. I love her like my own baby.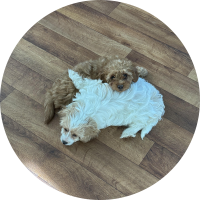 Wonderful breeder with a great and clean place for the dogs. He was very patient with us while our kids took their time deciding and loving on all of the pups. He even showed us around and sent us home with a care package for each puppy!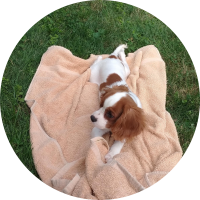 From Pittsburgh, Pa. Just got puppy Charlie (King Charles Cavalier) from Marcus here... So happy, They even gave a fantastic starter kit! I will recommend him to everyone!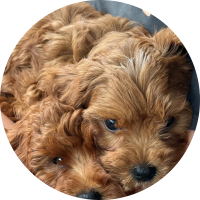 Purchasing our pups, Bullet & Cruiser, through Mid Ohio Cavapoos was a smooth transaction. From the first contact email to pick up of our puppies, working with Marcus was such a delight. Communication was awesome & conversations were very thorough. We were not expecting them, but Marcus gifted us with two canvas bins full of treats for the puppies. We definitely recommend Marcus Troyer & Mid Ohio Cavapoos to any Cavapoo lover. Thanks agian, The Travis Family
Puppies Are Well Cared For
We traveled over 500 miles to pick up Luigi (formerly Toby) and it was so worth it! Marcus runs a meticulous place. The puppies are so well cared for. We brought home Luigi only a week ago. He has already seen our Vet who said that he is in great shape. He's smart and has already adapted to a crate. Marcus gave us an incredibly generous basket of food, toys, leashes etc. and has been available for any questions that we have. I would recommend this breeder to anyone!!
Graceful for our first Puppy!
Thanks MidOhio Cavapoos giving us the chance to meet our very first puppy! We are truly graceful! He is smart, heartwarming boy. Would recommend the breeder to anyone! 100% Satisfaction!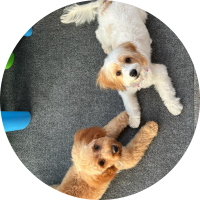 We set out to get a puppy for our daughter. After visiting another breeder we knew we had to keep looking. When we went to see Lady we knew we found our puppy. Marcus was so amazing. He took time to answer all our questions and show us around. It was such a pleasant experience. I would very highly recommend.
It's been a month since we brought home Korra (now Penny) and Miles. This was our first time bringing home siblings and we couldn't love them more! Anna "the breeder" was nice, helpful, and had patience with us as we selected our pups! We were so excited to find that they were already chipped along with being given a bag of food and toys. We came to Mid-Ohio Cavapoos to find one puppy and ended up with two! We would recommend them to anyone looking for a new puppy (or two) to add to their family! Thank you again!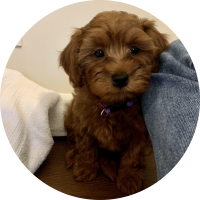 We bought our first dog "Katie" now named "Nala" a female cavapoo from Mid-Ohio Cavapoos. From the first contact with the breeder, to seeing the dog and taking home the dog home it was a smooth and good experience. Nala was in great condition, with interaction with her litter mates and mom. The breeder even had a little grass patch (that we saw being cleaned as well) for the puppies! Nala came home already accustomed to only peeing on grass (we were very impressed). Nala came with a bag of food and her records all up to date and in order! We would recommend this breeder to anyone especially any first time puppy owners:)
I contacted Anna looking for a mini Cavapoo as an Emotional Support Animal (ESA) for myself. Anna was super helpful on the phone answering my many questions about Sherlock (previously named Finn), as well as my questions about his mother Heidi, the kennel, and even questions about puppy mills. She was open and forthcoming with information, unlike some other breeders I spoke with that same day. I felt so comfortable with her answers and was so in love with Sherlock's cute face, I bought him right then and picked him up 4 days later. Anna is so caring about her puppies and the homes they go to. We were supposed pick him up on a day where we were expecting a huge snow event and Anna suggested we pick him up the evening before for our safety since we were coming from out of state. I asked to also meet the mother Heidi, which Anna also arranged. The place was spotless, Sherlock was freshly bathed and it was obvious that mother wand puppy were well loved and cared for. Highly recommend Mid-Ohio Cavapoos to anyone looking for a Cavapoo !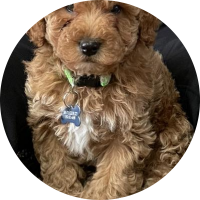 We just got our Cavapoo Finn from Mid Ohio Cavapoos. The process was very easy. We went to see the puppies to pick out the perfect one for our family at 5 weeks. Anna was so sweet and you could tell that she really cares about her puppies! She sent us weekly updated photos & videos of our Finn so we could see how he was doing! He is a happy, healthy puppy and fits perfectly into our family! We couldn't be happier!
I am so happy with my puppy from Mid Ohio Cavapoos! The transaction was easy, friendly, and uncomplicated. I would highly recommend this breeder to ANYONE! And if I ever decide to get another cavapoo, I will definitely go back to Mid Ohio Cavapoos. I've already told all my friends about them! I have a very happy and healthy puppy!